Forthcoming Events - Open to all
健康与文化太極氣功之旅
Health & Culture Tai Chi Qigong China Tour
10th April - 24th April 2016
15 Days from £1680.00
including international flights
Lead by One of Europe's leading Tai Chi Guru Master Tary
Cheng Du / Xi'an / Wudang Mountain / Beijing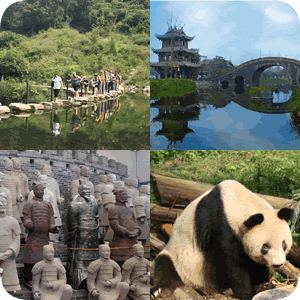 Fantastic Tai Chi & Qigong Training with World Respected teachers

Terracotta Warriors

Meditation on birth place "Mt. Wudang"

Giant Panda and ancient on town

Fantastic sightseeing - Thousand year old Architeture, Beautiful Mountains, Le Shan Hill Side Buddha Statue.....
Sorry......
Fully Subscribed
The Development and Practice of Sun Style
By Faye Yip (Li)

Sun Style Tai Chi was created by Great Grand Master Sun Lu Tang, one of China's most prominant Martial Arts Master in recent Chinese History. He was also a highly accomplished Xing Yi and Bagua Master. As the most senior student of Sun Lu Tang, my great grand father Grand Master Li Yu Lin was one of the main disciples assisted and represented Sun in his teaching. 

 

As a family tradition, it was passed down to my father Professor Li and subsequently myself. through the last 4 generations, we have taught and learned as closely as the way it was taught by Sun Lu Tang. All the detail, philosophy and inner essence of our learning and teaching remains true to the tradtional value of Sun Style Tai Chi passed down by Sun Lu Tang and my Great Grand Father Li Yu Lin.

 

The Definitive Guide to 24 Step Simplified Yang Style Taijiquan

The 24 Step Simplified Yang Style Taijiquan or some people refer it as the Beijing 24 Step Taijiquan, is one of the most popular Yang style Tai chi routine in the world.

 

It was structured in 1956 by my great uncle - Late Grand Master Li Tian Ji, based on the traditional long Yang Style long form.

 

As well as the creator of this amazing routinesfirst, he was aslo the first Wushu Coach of China's Wushu team, one of China's 10 greatest Martial Arts treasures in the 20th century, signified as the father of Taiji in Japan.