Culture & Health Tai Chi & Qigong China Tour 2014
8th - 25th September 2014
15 Days or 18 Days from £1595 including international flights
Szechuan Panda Conservation Base / Le Shan Hill side Buddha / Terracotta Warriors / Wudang Mountain / Phoenix Old Town / Zhang Jia Jie Geo Park / Beijing
"only 2 places left,
book now before it's too late!!!"
Enthusiasts from all over the world are welcome to join us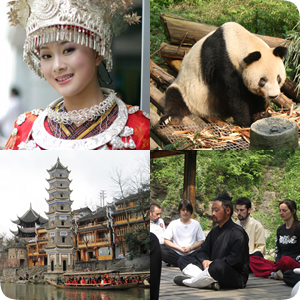 Practise Tai Chi & Qigong

with great masters of China

visit historic sights

that will inspire one heart and soul

Awe by beautiful landscap and Culture that will inspire one heart and soul
and many more...
Organised by Master Faye & Tary Yip & their team More.................
Celebrating the Year of the Horse

With the Deyin Taijiquan Institute

The Deyin Taijiquan Institute welcomed the Year of the Horse with a wonderful, free event on Sunday 2nd February in Wolverhampton. Instructors, students and friends of the Institute came from far and wide to spend two to three hours playing forms they knew, joining in with others they wanted to try out, and watching some fascinating demonstrations.

The Definitive Guide to 24 Step Simplified Yang Style Taijiquan

The 24 Step Simplified Yang Style Taijiquan or some people refer it as the Beijing 24 Step Taijiquan, is one of the most popular Yang style Tai chi routine in the world.

 

It was structured in 1956 by my great uncle - Late Grand Master Li Tian Ji, based on the traditional long Yang Style long form.

 

As well as the creator of this amazing routinesfirst, he was aslo the first Wushu Coach of China's Wushu team, one of China's 10 greatest Martial Arts treasures in the 20th century, signified as the father of Taiji in Japan.

The Development and Practice of Sun Style
By Faye Yip (Li)

Sun Style greatly emphasises self-rejuvenation and meditation when practising movements. For example, Sun Lu-Tang wrote in his book: "...men were born with original qi, but (they grow up) without the external physical training or

the internal mental discipline. The result is that yang and yin are disunited and external and internal is uncoordinated." From this comment, you can draw a clear message that the rejuvenation of qi is undoubtedly important.